A logo is seen on a Zipcar in San Francisco, California September 2, 2015.           REUTERS/Robert Galbraith
By Paul Lienert
DETROIT (Reuters) – The growth of car-sharing services will erode traditional manufacturers' vehicle sales and revenues through 2021, but will not be nearly as disruptive as the rise of self-driving cars later in the decade, a study forecasts.
The evolution of car sharing services, such as those provided by Avis Budget Group's <CAR.O> Zipcar and Daimler AG's <DAIGn.DE> Car2Go, could trim global vehicle sales by 550,000 in 2021 and cost manufacturers more than $8 billion (£5.67 billion) in lost revenue, according to a survey released on Tuesday by Boston Consulting Group.
But car-sharing will have a far greater impact in Europe and the Asia-Pacific than in North America, the study predicts.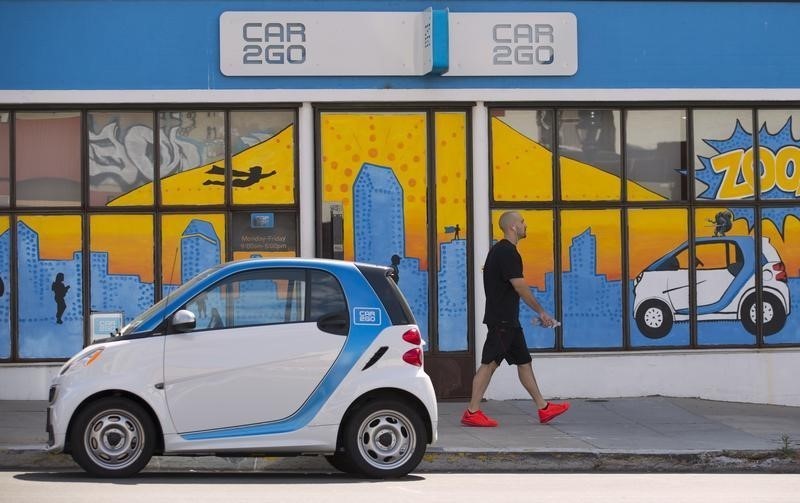 Automakers in North America are expected to lose about 52,000 sales a year to car-sharing customers in 2021, but that will be offset by sales of 44,000 vehicles a year to car-sharing fleets, for a net loss of only 8,000 vehicles at a cost of just over $500 million, BCG researchers said.
In addition, U.S. automakers such as Ford Motor Co <F.N> and General Motors Co <GM.N> are investing in car-sharing services in several markets to supplement individual vehicle ownership.
In the longer run, according to the study, "autonomous vehicles will have a much greater impact on new-car sales than car-sharing will," but not until 2027.
The study did not account for the short-term impact of ride- hailing services such as Uber and Lyft. But it noted that the arrival of self-driving vehicles in the late 2020s will trigger the convergence of car-sharing and ride-hailing.
Car-sharing will not be "a true game changer," the study concluded, but self-driving cars "will change the game, erasing the distinction" between car-sharing and ride-hailing while providing users with "a significant edge in the total cost of ownership."
(Reporting by Paul Lienert in Detroit; Editing by Dan Grebler)