By Martin Petty
HANOI (Reuters) – Stand-up comedian Nguyen Cong Vuong wants to shake up Vietnam's notoriously dull politics, and says images of lawmakers snoozing in televised debates is no laughing matter.
It's a view shared by Mai Khoi, a sassy, pink-haired singer who says politics should not be the exclusive domain of the ruling Communist Party.
They are not political activists but among an unprecedented number of ordinary Vietnamese who want to run as independents in a parliamentary election to unseat the war veterans and greying bureaucrats they say are out of touch with a young, fast-changing country.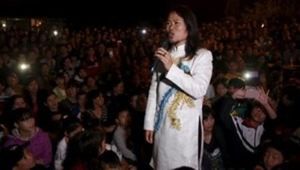 "I want to change perceptions of politics, bring some youth and energy to the National Assembly," said Vuong, 34, a well-known TV comedian and performance artist.
"It's our push for democracy. We don't want to see people sleeping in parliament. They should realise its better for the country to bring some new faces and fresh ideas."
But that is easier said than done when the Communist Party controls the 500-seat, rubber-stamp legislature and a small minority of non-party lawmakers are endorsed by state institutions.
The party also decides who gets on the ballot papers.
Some 100 people in Hanoi and Ho Chi Minh City have registered as self-nominated candidates for the May election, generating support on Facebook and a level of public interest about politics seldom seen in Vietnam.
Their chosen path is unorthodox and contentious, shunning the traditional route of joining the 4.5 million member Communist Party, which is largely considered unfashionable by a swelling young population.
GAGA OVER POLITICS
Often dubbed Vietnam's version of Lady Gaga, Mai Khoi, 32, has courted controversy with her provocative on-stage attire and lyrics, which include the word "orgasm".
She wants to address social issues in parliament, like same-sex marriages, and said being an independent means not being shackled by the Communist Party's strict rules and traditions.
"Many people are surprised and wonder why a singer like me wants to join the National Assembly," she told Reuters.
"Everyone should care about politics. It affects all of our lives … The NA allows more chances to speak up."
Talk of political plurality is taboo in Vietnam, even more so as the party's legitimacy is increasingly challenged by the public's insatiable appetite for social media.
Asked by Reuters for his views on everyday people seeking election, retired lawmaker and social science professor Nguyen Minh Thuyet said it was "not suitable" for him to comment.
Some potential candidates are causing a stir, however, with 20 activists, bloggers and protesters running disciplined campaigns to test the sincerity of the party's promises of inclusively.
The five-yearly election is the only national poll the public votes in. What has raised eyebrows is that in Vietnam's two biggest cities, there are more self-nominated applicants than ones backed by the party or state bodies.
The party now has the tricky task of deciding how open it is prepared to be.
Some independents say they're experiencing friction.
Vuong is angered by media articles accusing him of being a proxy for anti-government groups, while Mai Khoi said her application had hit a snag over paperwork, which she insisted was in order.
The Hanoi election committee on Thursday said unsavoury elements were trying to influence the poll, saying some applicants were backed or funded by "domestic and foreign reactionary forces".
That aside, the committee's propaganda chief Nguyen Van Phong hailed the process as a success.
"It shows that the democratic spirit has prevailed," state media quoted him saying. "People want to contribute to society."
(Reporting by Martin Petty; Additional reporting by My Pham and Mai Nguyen; Editing by Robert Birsel)