Recent finds at the winter market included cauliflower, broccoli, a black radish and leeks.         Credit: Copyright 2016 Nancy Harmon Jenkins
By Nancy Harmon Jenkins (Zester Daily)
A recent trip to the produce market led me to sing hymns in praise of winter vegetables. I returned home with familiar cauliflower and broccoli, as well as fennel, which I've learned can be as good roasted in a gratin dish with a light cheesy topping as it is raw in a salad. Other finds included an enormous, 2-pound black radish, something totally new to me; and leeks, without a doubt the true key to all good things in the winter kitchen.
Years ago, for reasons too complicated to explain, I spent a couple of winters in a very small French village, population just less than 3,000, in the Vercors mountains above Grenoble. We stayed, my baby girl and I, in a pension called La Crémaillère run by Madame Jacquet, one of those fierce French women utterly lacking in social graces but who was a genius in the kitchen. The babe went to the école maternelle (nursery school) each morning, while Mama hovered over her typewriter, engaged in writing a novel (not my first, and no, it was never finished).
Toward lunchtime, up from Madame Jacquet's kitchen would float inevitably the enticing aroma of leeks, steeped and braised in butter, ready to form the base of whatever potage du jour was on Madame's menu for that day. Perhaps a little garlic accompanied them, occasionally an onion to add its more acerbic flavors to the mix, and then carrots one day, little purple-topped turnips another, simple potatoes a third. But every lunch began, as was considered only proper in the bon ménage bourgeois Madame Jacquet maintained, in company with her equals all over France.
Aromas bring back memories
From that day to this, the enticing aroma of braising leeks has evoked France for me more strongly than any other, more strongly even than the penetrating odor of Gauloise Caporals — strong French cigarettes — that used to be the distinguishing fragrance of the Paris Métro.
So when I chop a leek, rinse it carefully and toss it in a pot with a tablespoon of butter and a tablespoon of oil, it is to France that my culinary instincts turn. Those French soups are so simple, so easy and so inviting that I'm ready to revive them for my winter table. And because we're always looking for ways to put more healthful vegetables on the menu, a potage du jour can be an elegant way to add to that slot as well.
Because I already had the cauliflower, why not, then, a potage au chou-fleur for a first course at dinner? I was not surprised to discover that my good friend Josée di Stasio, who has a great French-language food program, "A la di Stasio," on Quebec television, has a recipe for a leek and cauliflower soup. For 4 servings, di Stasio simply sweats out 2 chopped leeks and 2 cloves of garlic in olive oil, adds a cut-up cauliflower, then 6 cups of broth (chicken or vegetable — enough to cover) and cooks until the vegetables are all tender. I would also add half a peeled and cubed potato to give the soup a nice creaminess. Then puree it, using a stick blender or an old-fashioned vegetable mill, and serve it up, garnished with chopped parsley or chervil or any other green herb that tickles your fancy.
Another time, though, I went back to a favorite recipe from "The Four Seasons of Pasta," the book I published last year with my daughter Sara, to find a great cauliflower "sauce" for pasta. It isn't really a sauce, but it is delicious mixed with pasta, and the sultana raisins and pine nuts give it a pleasant Sicilian touch. We think penne rigate is the perfect shape for this, but any short, stubby pasta will do.
If you look at the photo below, you will probably notice I left out the chili. That's because I didn't have one and it was too cold and late to go to the grocery store for one chili pepper. I also substituted pumpkin seeds for the pine nuts, just because I felt like it. This is all just proof that most recipes, including our own, are not engraved in bronze. Make do with what you have!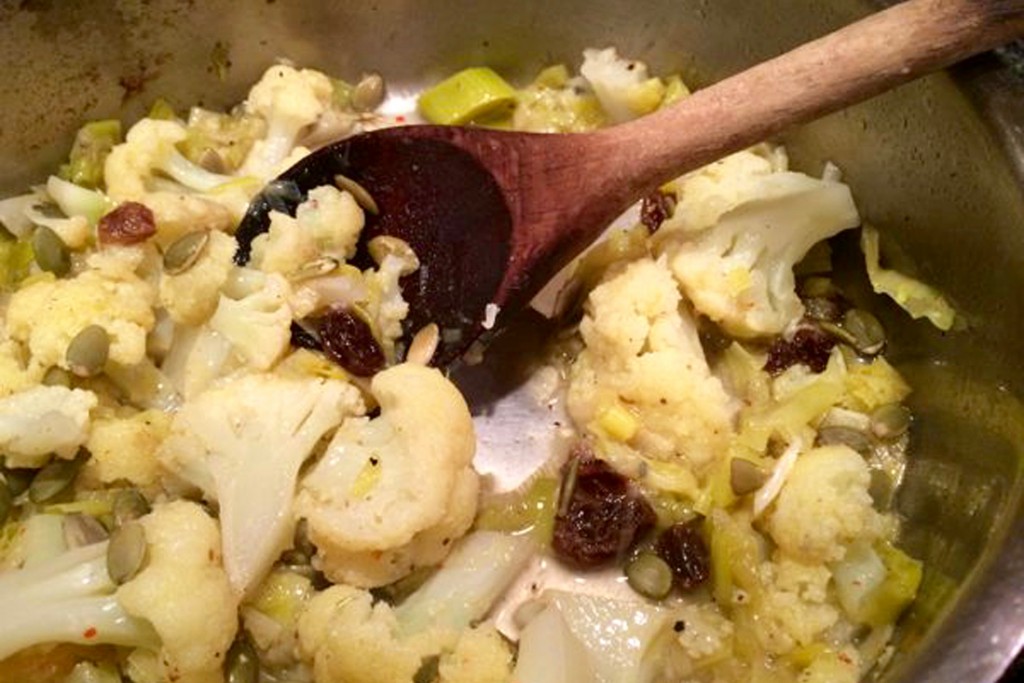 Penne rigate con Cavalfiore alla Siciliana
(Sicilian cauliflower pasta with leeks, raisins, pine nuts and a bit of chili)
Prep time: 15 minutes
Cooking time: 20 minutes
Total time: 35 minutes
Yield: Makes 6 servings
Ingredients
1/3 cup extra virgin olive oil
2 leeks, white and light green parts, thinly sliced to make 2 cups
2 garlic cloves, thinly sliced
About 1 pound cauliflower, separated into 1-inch florets
1 fresh red or green chili pepper, seeded and thinly sliced
1/2 cup dry white wine
1/2 cup golden sultana raisins, plumped in hot water and drained
Sea salt and freshly ground black pepper to taste
About 1 pound (a 500-gram package) penne rigate
1/2 cup freshly grated sharp pecorino
1/2 cup pine nuts, toasted
Directions
1. Combine the olive oil with the leeks and garlic in a large, deep skillet and set over low heat. Cook, shaking the pan and stirring, until the leeks are softened but not browned, about 10 minutes.
2. Add the cauliflower and sliced chili. Cover the pan and cook over low heat, stirring occasionally, until the cauliflower is tender, 10 to 15 minutes. Check from time to time and add a tablespoon or two of water or some of the wine to keep the vegetables from sticking to the pan.
3. When the cauliflower is tender, add the wine along with another 1/4 cup of water and raise the heat slightly. Simmer over medium-low heat until the liquid has reduced to about 1/2 cup, about 10 minutes. Toss in the raisins and simmer just long enough to mix the flavors together.
4. While the vegetables are cooking, bring a large pot of water to a rolling boil. Add plenty of salt and the pasta and cook, following package directions, until the pasta is al dente.
5. Drain the pasta and toss with the vegetables in the skillet, then turn into a warm serving bowl and toss again with the grated cheese and pine nuts. Serve immediately.
Note: You could easily substitute bright green broccoli for the cauliflower in this dish, but it will cook in much less time than the cauliflower. Or try it with a colorful mixture of broccoli and cauliflower together.
Copyright Nancy Harmon Jenkins via Zester Daily and Reuters Media Express